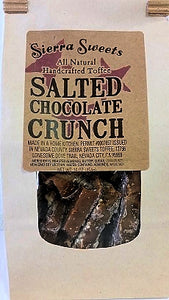 Sierra Sweets Toffees Salted Chocolate Crunch
A thin Sierra Sweets Toffee with a soft crunch. Roasted chopped almonds, dark chocolate and artisan sea salt combined into a sweet and salty savory treat.
 Our 2018 best seller!
All of Sierra Sweets Toffees are made in small batches with the best available locally sourced ingredients to insure a product we are proud to produce.
Sierra Sweets Chunky Toffee with Sea Salt is also available in these products